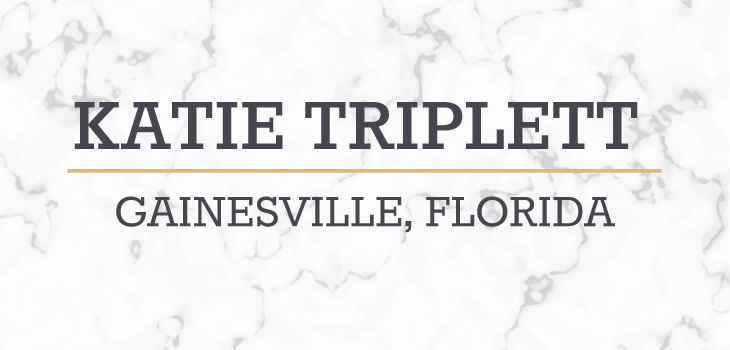 Meet Katie Triplett, a cabinet designer at our 84 Design Studio in Gainesville, Florida. Katie has been with 84 for six years after working for Home Depot for 17 years. She is an incredible designer and professional, and she's put her personal touch into hundreds of kitchens and bathrooms across Florida over the years. We were thrilled to catch up with Katie and hear some of her favorite new tips, tricks and trends.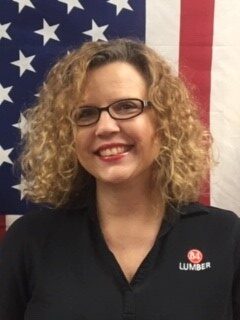 Tell our readers about your professional background within the industry!
I started in 1990 at Home Depot in Miami and was sent to NKBA training. I was with Home Depot for 17 years (15 in Miami and two in Gainesville). I took a few years off and worked at my daughters' school, and in 2014 I was hired by 84 Lumber.
What do you like most about your job?
I enjoy working with homeowners to help them get exactly what they want within their budget. I love seeing someone's vision and bringing it to life, especially when they cannot fully see it for themselves. I love combining wood and stone with color and light to make a house into a home, to turn an empty space into an inviting office foyer or to transform an outdated bathroom into a spa retreat. I also really enjoy working with builders to get the right product at the right price for their subdivision or one-time custom-built home.
Provide a few tips or tricks for remodeling a kitchen or bath.
When remodeling a kitchen or bath, start with some basics: door style and color. This will usually show you what cabinet vendor to use. If you're choosing a special color, you can either find it in the standard finishes offered or use a vendor that offers custom color match. From there, you can decide if you are keeping your current footprint or layout and just replacing the cabinets and countertops, or if you are going to be moving plumbing, electric or removing walls. With my clients, I try to include everything the homeowner wants and needs. Then, if we need to trim the budget, we have areas that we can look at to make changes. For example, you can change out a drawer base cabinet for a standard base cabinet. Drawer stacks typically cost more than standard bases but are easier to use. Another common option is to change the height of the wall cabinets from 42" to 30" if you do not need the extra storage space, or you could only put plywood in the sink bases, as plywood is not needed in all the cabinets. When choosing flooring, if using tile, I usually recommend spend the extra money and tile the whole room, even under the cabinets where it will not show. If you tile after the cabinets are installed and there is a leak, you may not find out about it until the "trench" under the cabinets has filled up and leaked out. This will require new cabinets (some insurances only cover what is damaged and that does not include wall cabinets and they may not match the new ones), replacing drywall, insulation, and/or mold removal.
What are a few current trends that you're loving?
White or grey (painted or stained) shaker cabinets are still extremely popular. We're also seeing a lot of requests for floating shelves (usually in a wood finish) instead of wall cabinets, or even a mixture of both in kitchens and bathrooms. White cabinets surrounding dark blue, black or grey islands are a big kitchen trend I'm seeing as well. We've also been seeing a lot of large islands with cabinets on all sides and seating for 4 or more, instead of a dining table. I love the look of a big kitchen island!
What's one piece of advice you would give to a homeowner starting a remodeling project?
Have an idea of what you want by at least narrowing down the door style and color, even if you aren't sure what you want in the design or cabinets. Determine which appliances are must haves due to floor plan and space to ensure everything will fit. Finally, try to have fun! Enjoy this process and laugh a little because it can be stressful. You are not just applying makeup; you are doing a full facelift with some reconstructive surgery.